In this episode: Milestones. Nine years ago today Cast On began, and today is the day that Cast On comes to an end. A special extended edition of the podcast, in which I talk at great length about my knitting, in Today's Sweater, look back as well as forward, get by with a little help from my friends, sing badly, play my favourite music, tell an amazing family story, and say a fond, heartfelt, and tearful farewell to my beloved knitsibs. A truly epic bind off. With this episode, nine years of love and joy and knitting and work come to a natural end, and this epic body of work is now complete.
This is Bea's adorable dress, made using Simplicity pattern 1787, from the Project Runway collection. I want one.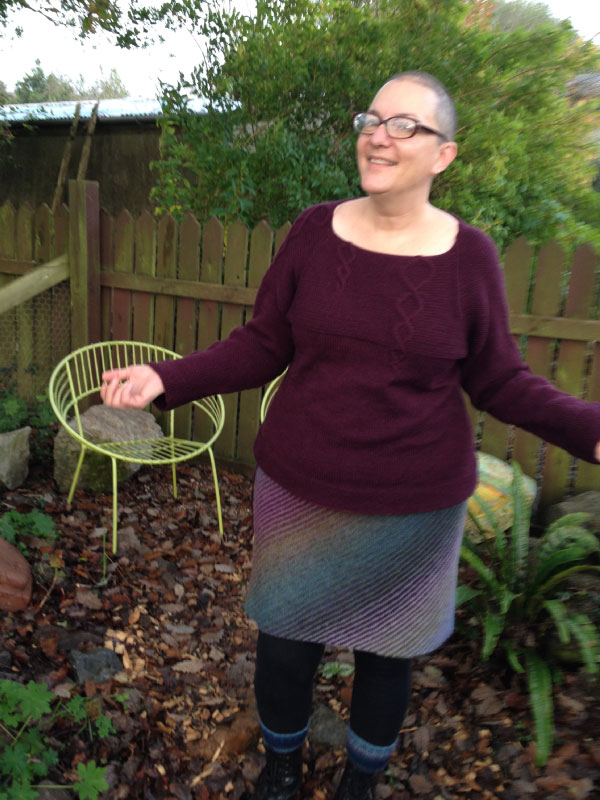 Today's Sweater is Baby Cables and Big Ones Too, by Suvi Simola, knit in Jaeger Extra Fine Merino DK, that started to be an Autumnal Equinox (real name, Summer Solstice), until I frogged it.
Using the shaping in some of the sweaters in Rowan Magazine Number 44, I inadvertently created a Telly Tubby.
What to do next? Baby Cables is a really big sweater, and I am not entirely happy with the fit. Is it too long? Too short? Do I frog and reknit, or just live with it? I can't decide, so I'm turning the decision over to you. Answers in the show notes, please.
Massive thanks to my friend, Franklin Habit, for all the words, pictures and support so generously gifted to Cast On these nine too-short years. Franklin's little somethings and big somethings can be found here, here, here and here.
Turbo thanks to my friend, Felix, for sharing her experience of the A4074 in words, sounds, wool, and for being my balcony person.
The Knitsonik Stranded Colourwork Sourcebook, by Felicity Ford (aka Felix) is a gorgeous, ingenious and wonderful book, written by my gorgeous, ingenious and wonderful friend. Purchase the book here, and read about the process of making it here.
I'm giving away my second copy of Felix's book. To win the one without tear stains, leave a comment. The winner of The Knitsonik Stranded Colourwork Sourcebook will be chosen by random number generator at midnight, on November 7th, 2014.
Dave. There are no words, my friend. Except for these. THANK YOU. And SOCKS.
Thanks to Uncle Bob, and my dad, for giving me a connection to Amelia Earhart. Ive been obsessed with her ever since. Exciting as it is to think that a piece of her plane may have been found, the story is not without its detractors. As Uncle Bob says, "We just don't know." And may not ever.
Always and forever, love and thanks to Tonia, the Engels to my Marx; the Bernie to my Elton; the Teller to my Penn. You kept me fed while I made podcasts, and mixed perfect Manhattans when the hard work of making podcasts was done. I owe you. We ALL owe you.
The music I've shared in the podcast has been an important part of Cast On, from the very first episode. My life has been enriched by songs I've discovered in the making of Cast On. As with every episode, I'm grateful for the music shared in this last episode of the podcast.
Jim Fidler has wielded the magic fingers behind Merrigan's Reel
, the beautiful guitar work you've been hearing in the Cast On theme tune all these years.
The opening track, She Can Knit and She Can Sew, came to me on a Magical Felix Mix Tape.
The Today's Sweater theme is a tune called Neighbor, and it's by the Lascivious Biddies. The song is actually about Mr Rogers, the childhood friend of millions, who wore sweaters with great aplomb. Purchase Neighbor
here.
The cover of the Indigo Girls song, Galileo, was performed by the Jeweltones, and came to me via a listener. I think they might be a show choir. They remind me of Glee.
Katy Wehr's beautiful song about growing old with the one you love, played right after Franklin's piece in the podcast, is called When You Are Old
. Every time I hear it, I am reminded that true love endures.
Amelia Earhart's Last Flight by Sessions Americana, is a cover of a old song from the 1930s. A year ago Tonia and I travelled all the way to Wexford, Ireland, just to hear them play. During the break I shared Uncle Bob's story with Dinty Child, the man who sings the lead in the amazing song about Amelia
. After the break Dinty shared my Uncle Bob's story with the the audience, and then Sessions Americana played the Amelia Earhart song. Tonia and I sang along. It was magical.
Of course the podcast HAD to end with One Last Drink
, by Enter the Haggis. How could I have ever thought otherwise?
Dearest Knitsibs, this last episode of Cast On was one of the most difficult that I've ever produced. I cried through most of the making of it. I cried while writing it, I cried while recording it (but cut those bits out of the recording, because I didn't want you to be sad. So really, don't be sad. Okay?) and I cried again while writing show notes and listening to the episode for the last time before the final export and upload. You and this podcast have been a huge part of my life, and I will miss making Cast On as much as you will miss listening to it.
Thank you, and farewell. It's been a great ride. I love you.